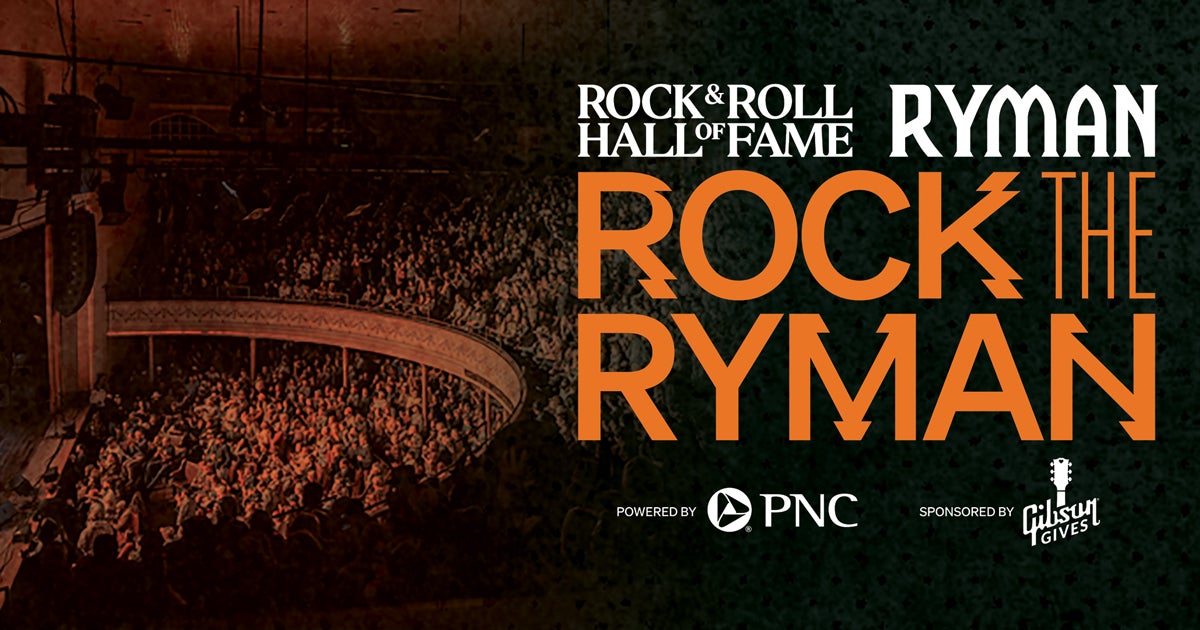 Celebrating the intersection of rock & roll and country, this special night of music will honor the legacy and impact of the Rock & Roll Hall of Fame Inductees who have graced the Ryman stage. The show will feature: Little Big Town, The Cadillac Three, The War & Treaty, Maddie & Tae, Gavin DeGraw, Caitlyn Smith & Charlie Worsham. Each artist will perform songs by Rock & Roll Hall of Fame Inductees that have moved them or influenced them in some way.
"More than 100 Rock & Roll Hall of Fame Inductees have performed on the Ryman's hallowed stage throughout its 130-year history," said Greg Harris, President & CEO of the Rock & Roll Hall of Fame and Museum. "We are thrilled to continue our collaboration with the Ryman by bringing together artists and fans for one incredible night to experience the power of rock & roll through some of Nashville's great talent."
Proceeds from the event will help preserve and celebrate the history of rock & roll at the Rock & Roll Hall of Fame and Ryman Auditorium.
Last May, the Ryman was designated as an official Rock & Roll Hall of Fame Landmark, joining 11 other rock & roll institutions throughout the country.
In November, the Ryman opened a major exhibition Rock Hall at the Ryman to celebrate the Ryman's mark on rock & roll history. The interactive exhibit is housed in the venue's newly transformed 5th Avenue vestibule and features Rock & Roll Hall of Fame Inductees including James Brown, The Byrds, Eric Clapton, Foo Fighters, Joan Jett and Dolly Parton in addition to country music icons like Johnny Cash, Elvis Presley and Hank Williams, who were early practitioners of what would become rock & roll music.
About the Rock & Roll Hall of Fame:
Born from the collision of rhythm & blues, country, and gospel, rock & roll is a spirit that is inclusive and ever-changing. The Rock & Roll Hall of Fame celebrates the sound of youth culture and honors the artists whose music connects us all. We share stories of the people, events, and songs that shape our world through digital content, innovative exhibits, live music, engaging programs, and our annual Induction Ceremony. We intentionally foster a diverse, equitable, educational nonprofit Museum that encourages and embraces creativity and innovation. As a community leader, we value, empower, and respect all people. Join the millions who love rock & roll as much as you do. Visit us in Cleveland, Ohio or at rockhall.com and follow us on Facebook (@rockandrollhalloffame), Instagram (@rockhall), Twitter (@rockhall), TikTok (@RockHallFame), and YouTube (youtube.com/rockhall).
About Ryman Auditorium:
A National Historic Landmark, Ryman Auditorium was built by Captain Thomas G. Ryman in 1892 as the Union Gospel Tabernacle. A 13-time winner of the prestigious Pollstar Theatre of the Year award, the historic venue is well-known as the Mother Church of Country Music and is the most famous former home of the Grand Ole Opry (1943-1974). The Ryman's thriving concert schedule hosts more than 200 shows per year, and the venue is open for daytime tours year-round. The Ryman has also been featured in numerous film and television projects including Coal Miner's Daughter, The Johnny Cash Show, American Idol, Nashville and more. Ryman Auditorium is owned by Ryman Hospitality Properties, Inc. (NYSE: RHP), a Nashville-based REIT that also owns and operates the Grand Ole Opry, WSM Radio and Ole Red. For more information, visit ryman.com.
About PNC Bank:
PNC Bank, National Association, is a member of The PNC Financial Services Group, Inc. (NYSE: PNC). PNC is one of the largest diversified financial services institutions in the United States, organized around its customers and communities for strong relationships and local delivery of retail and business banking including a full range of lending products; specialized services for corporations and government entities, including corporate banking, real estate finance and asset-based lending; wealth management and asset management. For information about PNC, visit www.pnc.com.
About Gibson Gives:
For over 129 years, the iconic, American instrument brand Gibson has been shaping sound across generations and genres. Gibson, and its charitable arm Gibson Gives believe in the power of music, and that getting instruments into the hands of those with a desire to make music is a life-changing event. Gibson Gives--a 501(c)(3) is committed to making the world a better place by supporting non-profit organizations in their efforts to advance musicians, youth-focused education, music, and wellness initiatives. 100% of all donations to and from Gibson Gives go towards giving the gift of music. In the last three years, Gibson Gives has raised over $3.5 million dollars worldwide through its mission. Gibson Gives believes investing in music education will yield better people, better leaders, and a better world. Gibson Gives is changing lives…one guitar at a time. For more information, visit: www.gibsongives.org.
Venue Information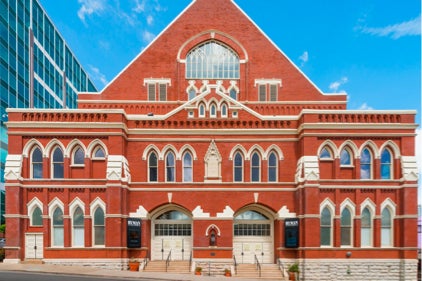 Ryman Auditorium
Ryman Auditorium, located at 116 Rep. John Lewis Way North, in Nashville, Tennessee, is one of the most celebrated venues in modern music. Built in 1892, the historic 2,362-seat live performance venue is the most famous former home of the Grand Ole Opry and is revered by artists and music fans for its world-class acoustics. A bucket list moment for both fans and artists alike, her iconic stage has hosted performers from across genres, such as Elvis Presley, Bruce Springsteen, Charley Pride, Loretta Lynn, Johnny Cash, Harry Styles, Wu-Tang Clan, Lizzo, and thousands more. While offering a diverse lineup and thriving concert schedule with over 200 shows per year, the venue is also open for daytime tours year-round. Along with best-in-class production technologies and livestream capabilities, the Ryman has been named Pollstar's Theater of the Year for 13 years through 2021.
Stay In Touch
Subscribe for updates, events offers and more. To sign up to receive our emails, Fill in the following fields and hit submit. Thanks, and Welcome!