Radio DJ. Stand-up comedian. Best-selling author. Chart-topping recording artist. TV personality. Philanthropist. Bobby Bones has built his career on the ability to multi-task. Channeling humor, honesty, and hard work, he's also built the largest nationally syndicated morning show in country radio - "The Bobby Bones Show."
Of course, a full-time radio career hasn't stopped him from regularly hitting the stage alone as a stand-up comedian. It's a job he's enjoyed since his teenage years. It continues to be a welcome challenge, too, putting Bones face-to-face with his audience and eliminating his cast of on-air sidekicks.
"I'm up there alone, telling stories from my life and sharing observations from my warped mind," he says. "It's all about honesty and awkwardness. I can't react to something my partner has just said, because there's no one else up there with me. I love the challenge. I love running the risk of failing at something, because if you fail, at least it means you're trying." 2017 saw Bones launch his wildly successful "Funny & Alone Stand Up Comedy Tour" with more than 20 sellouts across the country. In 2018, he will again hit the road bringing a brand new show - and plenty of new jokes - to his fans with the "Bobby Bones Red Hoodie Comedy Tour." For full info and dates, go to www.BobbyBonesComedy.com
Venue Information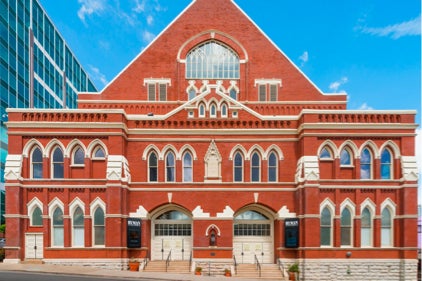 Ryman Auditorium
Ryman Auditorium, located at 116 Rep. John Lewis Way North, in Nashville, Tennessee, is one of the most celebrated venues in modern music. Built in 1892, the historic 2,362-seat live performance venue is the most famous former home of the Grand Ole Opry and is revered by artists and music fans for its world-class acoustics. A bucket list moment for both fans and artists alike, her iconic stage has hosted performers from across genres, such as Elvis Presley, Bruce Springsteen, Charley Pride, Loretta Lynn, Johnny Cash, Harry Styles, Wu-Tang Clan, Lizzo, and thousands more. While offering a diverse lineup and thriving concert schedule with over 200 shows per year, the venue is also open for daytime tours year-round. Along with best-in-class production technologies and livestream capabilities, the Ryman has been named Pollstar's Theater of the Year for 13 years through 2021.
Stay In Touch
Subscribe for updates, events offers and more. To sign up to receive our emails, Fill in the following fields and hit submit. Thanks, and Welcome!