With more than 17 million albums sold worldwide, over 3000 live shows performed, and
more than 1 Billion in radio audience, Night Ranger has both epitomized and
transcended the arena rock sound and style of that era and beyond. With songs that
have significantly impacted popular culture and continue to expand their ever-growing
fan-base, Night Ranger is proof that powerful songs, plus accomplished musicians is
the perfect formula for continued success.
Night Ranger has earned widespread acclaim, multi-platinum and gold album status
while leaving their indelible mark on the music charts with a string of best-selling albums
(Dawn Patrol, Midnight Madness, 7 Wishes, Big Life and Man In Motion), its popularity
fueled by an impressive string of instantly recognizable hit singles and signature album
tracks. Producing legendary hits such as "Sister Christian", "Don't Tell Me You Love
Me", "When You Close Your Eyes" the anthemic "(You Can Still) Rock In America", along
with "Sentimental Street", "Goodbye", "Sing Me Away", "Four in the Morning" and more.
The band was also one the the first big "video" bands, with over 10 number 1 videos on
MTV.
Over the years, the band's music has made notable contributions to and been featured
in many different areas of media and popular culture. Night Ranger's songs can be
heard in TV Shows; The Unbreakable Kimmy Schmidt, American Dad, Glee, Grey's
Anatomy, Parks & Recreation; Rock Band, Guitar Hero and Grand Theft Auto, video
games; Rock of Ages hit Broadway musical and feature film; the Oscar-Nominated film
Boogie Nights, Friday the 13th, Teachers, Sixteen Candles, The Secret of My Success;
JBL's "Hear The Truth" brand campaign; and many more!
Night Ranger is Jack Blades (bass, vocals), Kelly Keagy (drums, vocals), Brad Gillis
(lead & rhythm guitars), Eric Levy (keyboards) and Keri Kelli (lead & rhythm guitars).
Venue Information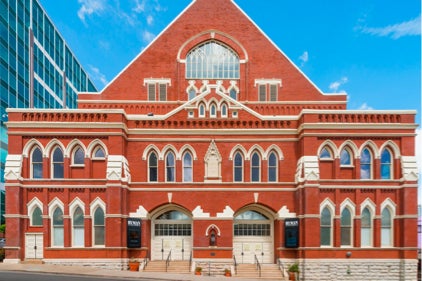 Ryman Auditorium
Ryman Auditorium, located at 116 Rep. John Lewis Way North, in Nashville, Tennessee, is one of the most celebrated venues in modern music. Built in 1892, the historic 2,362-seat live performance venue is the most famous former home of the Grand Ole Opry and is revered by artists and music fans for its world-class acoustics. A bucket list moment for both fans and artists alike, her iconic stage has hosted performers from across genres, such as Elvis Presley, Bruce Springsteen, Charley Pride, Loretta Lynn, Johnny Cash, Harry Styles, Wu-Tang Clan, Lizzo, and thousands more. While offering a diverse lineup and thriving concert schedule with over 200 shows per year, the venue is also open for daytime tours year-round. Along with best-in-class production technologies and livestream capabilities, the Ryman has been named Pollstar's Theater of the Year for 13 years through 2021.
Stay In Touch
Subscribe for updates, events offers and more. To sign up to receive our emails, Fill in the following fields and hit submit. Thanks, and Welcome!