Andrew Dice Clay is proud to be America's most controversial and outrageous comic of all time.

And it's that persona that has made Clay "The Undisputed "Heavy Weight King of Comedy."

Over the last few years, Clay has been going through resurgence; he had a critically acclaimed recurring role on the final season of HBO's Entourage. And next summer, The DiceMan co-stars alongside Cate Blanchett and Alec Baldwin in Woody Allen's Blue Jasmine.

To this day, Clay remains the only performer banned for life from MTV. When he released his debut album, DICE, the parental advisory label simply read "Warning: This album is offensive."

But despite all the media backlash; Dice's rise to fame was meteoric, selling out Madison Square Garden two nights in a row along hundreds of other sports arenas from coast to coast. As Dice proudly boasted, "I've done so many concerts tours that I can't even remember their names." And in 1992, Dice performed in front of the largest audience ever by a comedian when he shared the stage with Guns & Roses at the Rose Bowl.

Along the way, Dice starred in numerous feature films including: The Adventures of Ford Fairlane, appeared in several HBO specials (The Dice Man Cometh), released best selling DVDs (No Apologies, Dice Rules!), a string of multi-gold and platinum selling CDs (Day The Laughter Died; Filth and Face Down, Ass Up) and profiled everywhere from Entertainment Tonight to Nightline. And in 2009, he appeared on Celebrity Apprentice where he proudly admits he was thrown off the show first.

The secret to Dice's continuing success is that he has a lot more going for him than shocking and being a potty mouth. Clay is a disciplined, talented and versatile performer/actor. His acting roles and credits clearly show that Clay is capable of being just as funny without the dirty words.

But more than anything, audiences continue to crave that excitement and demand to see The Diceman and Clay is more than happy to oblige and prove the comic icon is INDESTRUCTIBLE.
Venue Information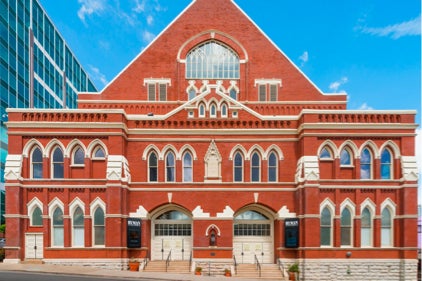 Ryman Auditorium
Ryman Auditorium, located at 116 Rep. John Lewis Way North, in Nashville, Tennessee, is one of the most celebrated venues in modern music. Built in 1892, the historic 2,362-seat live performance venue is the most famous former home of the Grand Ole Opry and is revered by artists and music fans for its world-class acoustics. A bucket list moment for both fans and artists alike, her iconic stage has hosted performers from across genres, such as Elvis Presley, Bruce Springsteen, Charley Pride, Loretta Lynn, Johnny Cash, Harry Styles, Wu-Tang Clan, Lizzo, and thousands more. While offering a diverse lineup and thriving concert schedule with over 200 shows per year, the venue is also open for daytime tours year-round. Along with best-in-class production technologies and livestream capabilities, the Ryman has been named Pollstar's Theater of the Year for 13 years through 2021.
Stay In Touch
Subscribe for updates, events offers and more. To sign up to receive our emails, Fill in the following fields and hit submit. Thanks, and Welcome!