Throughout his more than two-decade career, whether topping the charts as frontman of hard Rock heroes Staind, or his second act as a No. 1 artist on the Country charts as a solo artist, Aaron Lewis has always been painfully honest in his music.
"That's all I've ever done. My songs have always been me wearing my heart on my sleeve, and my emotions on my sleeve, and my misfortunes on my sleeve, my sins on my sleeve," Lewis says. "I don't feel like it would be genuine nor worthy of this crazy ride I've been on if it wasn't."
He is 100 percent open, as he has to be, about his stunning new collection, STATE I'M IN (The Valory Music Co.).
"The songs I wrote on this record, they were some dark times," he says. "The state I'm in is not Mississippi, or Texas, or Massachusetts, it's more about the emotional state I'm in and everything I've surprisingly talked about in this interview. I'm always surprised by what comes out of me. I'm always surprised by the overall content of a record. It is a flow of consciousness."
That consciousness led Lewis to the most vulnerable record of his career. In the gorgeously melancholy title track, Lewis sings candidly, "I'm still working my fingers to the phone/When the show is over I sit alone/Where the angels and the devils are my only friends/And I get up in the morning and I do it again."
One of the most poignant songs is the touching ballad "Love Me." Lewis says that song is a cornerstone of the album. "That was a really heartbreaking song for me to write," he says. "The tears were rolling down my face and blurring the words on the page, I was writing as fast as I could with a pen. The flow of emotion that went into that song was pretty overwhelming."
The album has plenty of up moments musically as well, starting with the opening track, the raucous "The Party's Over," a song that oozes old-school country twang. Another song that screams old-school country is "Burnt the Sawmill Down," which comes from never before heard Keith Whitley lyrics.
"I'm really good friends with Keith's son, Jesse. And Jesse gave me this freaking cassette tape that had his dad in a hotel room with an acoustic guitar, barely in tune, playing what became "Burnt the Sawmill Down," Lewis says. "I took this demo tape and we turned it into the song on the record. It was never anything. I heard the song and we turned it into the song you hear on the record."
For Lewis to get to record a song from the late great Whitley was an extreme honor, as fans can hear when Lewis sings the praises of his country heroes in the track, "It Keeps on Workin'," a song that will draw a lot of attention.
"They used to sing about pickup trucks on my radio/Those S.O.B's are in SUV's that ain't never left the road," Lewis laments about the changes in country music.
"I'm gonna be 47 in April and the Country music that was the soundtrack of my childhood is the Country music of the '70s," he says. "And I don't think I'm pointing out anything that isn't blatantly obvious to anybody who's known more than just the country music you hear on the radio today, which I would argue really is not country music. There isn't even a connecting tissue. There's no line that you can draw. It's a different planet. So, I'm making and writing country music that is reminiscent of the country music that I was force-fed as a kid."
An early favorite live, according to Lewis, is the slow-drawl of "God and Guns," in which Lewis decries those in power. "All the talking heads on TV/They're selling their lies/Saying their way is better for living my life/And I'm fed up with them set up all high on that hill/They don't give a damn about a common man/Hell, they never will."
For Lewis, who remains on the road year-round, new songs are the most exciting way to spice up the live set and, as he puts it, "Hit the refresh button." So, he's been playing several songs off STATE I'M IN and has been very excited by the response.
"It's always nice to put some new stuff in there and even better when people react to it the way people have been reacting to these new songs," he says. "They're hearing them for the first time and reacting to them like they've known them. And the reaction to the songs was like they were a song off their favorite record. That's always motivating and hopeful."
Maybe it is fitting in the dark times that led to this record, Lewis finds his salvation and hope in playing the new material live. As he says, in his powerful honesty, music is the one thing that has kept him going all these years.
"It's absolutely been my saving grace. I don't know how I made it through high school. I don't know how many times I should've died in high school. I don't know how I could've channeled that self-destructive energy away from me in any other way than to have writing as an outlet," he says.
Through that outlet, he has helped many others over the years. Something he says makes it all worthwhile. "It makes it make some sort of sense," he says of every time a fan shares a story of how his music has helped them. "It gives me some sort of peace to know that everything I went through in my childhood, and that I've gone through in my life, had some sort of purpose."
Venue Information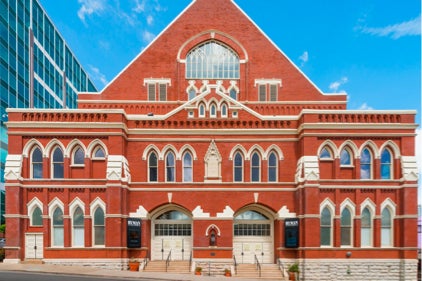 Ryman Auditorium
Ryman Auditorium, located at 116 Rep. John Lewis Way North, in Nashville, Tennessee, is one of the most celebrated venues in modern music. Built in 1892, the historic 2,362-seat live performance venue is the most famous former home of the Grand Ole Opry and is revered by artists and music fans for its world-class acoustics. A bucket list moment for both fans and artists alike, her iconic stage has hosted performers from across genres, such as Elvis Presley, Bruce Springsteen, Charley Pride, Loretta Lynn, Johnny Cash, Harry Styles, Wu-Tang Clan, Lizzo, and thousands more. While offering a diverse lineup and thriving concert schedule with over 200 shows per year, the venue is also open for daytime tours year-round. Along with best-in-class production technologies and livestream capabilities, the Ryman has been named Pollstar's Theater of the Year for 13 years through 2021.
Stay in Touch
What's almost as iconic as visiting the Ryman? Always having the inside scoop!
Sign up for exclusive updates, offers, and events, so you never miss out on what's happening at the Mother Church.