William "Smokey" Robinson, Jr. is a legendary singer-songwriter, record producer, record executive and co-founder of Motown Records. Robinson and his group, the Miracles met Berry Gordy after a failed audition for singer Jackie Wilson's managers. Gordy was impressed with Robinson's vocals and ambitious songwriting. With his help they released, "Got a Job." It was the beginning of a successful collaboration and the beginnings of Motown.
In 1960, Miracles recorded their and Motown's first million selling hit, "Shop Around." Between 1960 and 1970, Robinson would produce 26 top forty hits with the Miracles including several top ten hits such as "You've Really Got a Hold on Me", "I Second That Emotion" and the group's only number-one pop hit, "The Tears Of A Clown". Other notable hits include, "Ooo Baby Baby," and "The Tracks Of My Tears".
Robinson was one of the major songwriters and producers for Motown, penning several hit singles such as, "Who's Loving You" "My Guy," "The Way You Do The Things You Do", "My Girl", "Get Ready" and "Ain't That Peculiar".
In 1975, Robinson released his most successful solo album, A Quiet Storm, which yielded three hit singles, "Baby That's Backatcha", "The Agony & The Ecstasy" and "Quiet Storm".
His classic hit, "Cruisin'" peaked at number four on the Billboard Hot 100. Robinson topped the charts again with another sensual ballad, "Being with You and teamed up with fellow Motown label mate Rick James recording the R&B ballad, "Ebony Eyes".
Robinson made a triumphant return with the album, One Heartbeat and the singles, "Just to See Her" and "One Heartbeat," both Top 10 hits."Just To See Her" won Robinson his first Grammy Award. In the same year, he was inducted as a solo artist to the Rock and Roll Hall of Fame and the UK group ABC released a tribute song, "When Smokey Sings."
In recent years, Robinson released the standards album, Timeless Love, Time Flies When You're Having Fun, Now And Then and Smokey & Friends. He is releasing his first ever solo Christmas album, Christmas Everyday in November 2017 as an Amazon exclusive.
Robinson has been Inducted into the Kennedy Center, awarded an individual star on the Hollywood Walk of Fame and a second star with The Miracles. He was awarded a medal at the National Medal of Arts, A Heritage Award at the Soul Train Music Awards and a BET Lifetime Achievement Award. Howard University conferred on Robinson the degree of Doctor of Music as did the Berklee College of Music.
Venue Information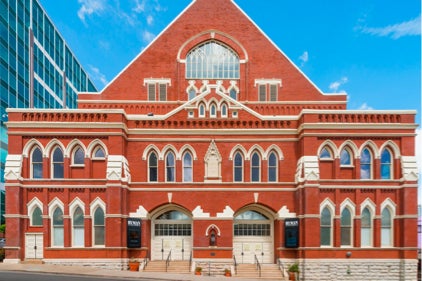 Ryman Auditorium
Ryman Auditorium, located at 116 Rep. John Lewis Way North, in Nashville, Tennessee, is one of the most celebrated venues in modern music. Built in 1892, the historic 2,362-seat live performance venue is the most famous former home of the Grand Ole Opry and is revered by artists and music fans for its world-class acoustics. A bucket list moment for both fans and artists alike, her iconic stage has hosted performers from across genres, such as Elvis Presley, Bruce Springsteen, Charley Pride, Loretta Lynn, Johnny Cash, Harry Styles, Wu-Tang Clan, Lizzo, and thousands more. While offering a diverse lineup and thriving concert schedule with over 200 shows per year, the venue is also open for daytime tours year-round. Along with best-in-class production technologies and livestream capabilities, the Ryman has been named Pollstar's Theater of the Year for 13 years through 2021.
Stay in Touch
What's almost as iconic as visiting the Ryman? Always having the inside scoop!
Sign up for exclusive updates, offers, and events, so you never miss out on what's happening at the Mother Church.