Where Should I Go For Music in Nashville?
If you're visiting Nashville, odds are you've got plans to see live music. Nashville is one of the most well-known and best-regarded destinations for music in the world . After all, it's called Music City! There's no shortage of performers and venues in Nashville, but experts and locals agree that there are some venues you just can't miss when you're looking for an authentic, unforgettable Nashville experience. On your next visit to Music City, check out these music venues that are guaranteed to please.
Nashville's Best Spot for Live Music: Ryman Auditorium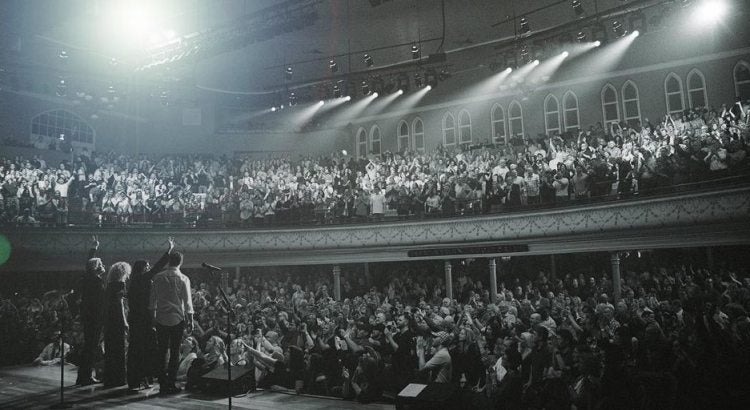 Without a doubt, there's no better venue to see a show than Ryman Auditorium. It's Nashville's most famous musical destination and most well-known historic landmark. Known as the Mother Church of Country Music and adjacent to Broadway's honky-tonks, the Ryman is a dream venue for performers and music fans alike.
Why Visit the Ryman?
Ryman Auditorium represents the heart and soul of Nashville's music scene. The launching place for the careers of countless stars, like Minnie Pearl, Roy Acuff, and Hank Williams, the Ryman is arguably the most famous music venue in the country.
Plus, the sound just sounds better. The Ryman was crafted to project voices, with wrap-around church pews and signature curves that create a clear sound unlike any other on the planet. In fact, listeners and artists alike agree it's the best destination for live music, period. It's as much a historical destination as a musical one. The Ryman even offers tours that allow music fans to soak in the impressive history of the Mother Church.
What Kinds of Music Can You See at the Ryman?
Though Ryman Auditorium was home to the Grand Ole Opry for over 30 years, music lovers can see a variety of musical genres at the venue today. Whether you're a fan of Rock, R&B, Indie, Pop, or yes, Country, there's a show on the calendar that you'll want to see. Artists like Brandi Carlile, Garth Brooks, Beach House, Run the Jewels, Harry Styles, Ruston Kelly, Jason Isbell, and many more have graced the Ryman stage.
Get Your Tickets
There's nothing like seeing a show at Ryman Auditorium. The variety of musical artists, the carefully crafted acoustics, and the venue's long history make taking in a show at the Ryman a once-in-a-lifetime experience. No two nights are the same. Visit the Ryman's concert schedule today and grab tickets for your next show. Pro tip: Order soon! Tickets always sell out fast.
Runner-Up: The Grand Ole Opry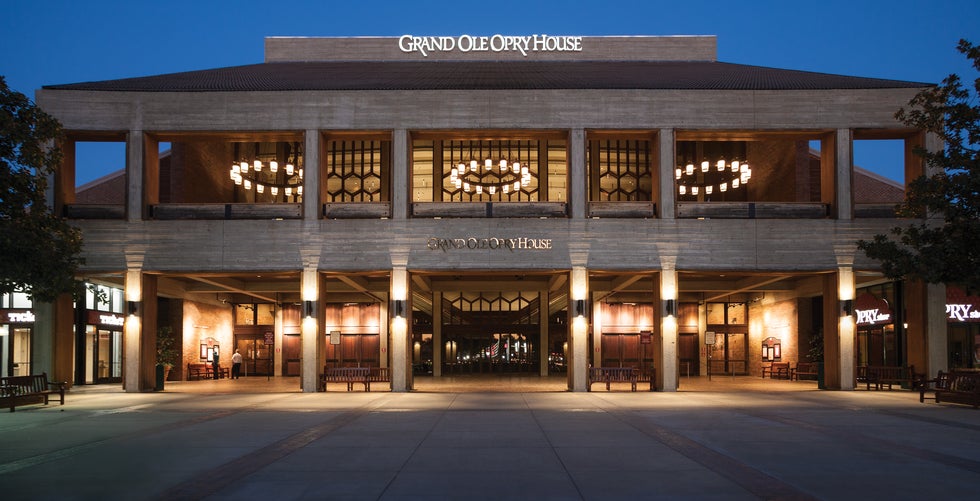 The Grand Ole Opry House opened in 1974 as the new home of the Grand Ole Opry, America's longest-running radio show. Since that time, the Opry has hosted nearly every country great, from Reba McEntire to Chris Stapleton. Seeing a show at the Grand Ole Opry is a bucket-list item for country music fans. And being inaugurated as an Opry member is a bucket-list item for country musicians. To be nominated as an Opry member is an enormous honor - and a privilege bestowed to only 200 performers ever. The Opry represents the best of country music and welcomes you with open arms to see a show.
Why Visit the Grand Ole Opry?
Country music fans know the Opry as the true home of country music and arguably the most significant musical site in country music. When the Opry House was constructed as the new home of the Grand Ole Opry, a 6-foot circle was cut from the Ryman stage and installed at the Opry. Now, when artists perform at the Opry, they stand in the footsteps of all the great performers who came before them. Music history like this is infused throughout the Opry, giving the venue a soul that few others possess.
The Opry offers a number of tours that give fans a peek behind the curtain. Start with an intro from Garth Brooks and Trisha Yearwood in the immersive theater, then see backstage, hear exciting stories about the Opry and its performers, and even stand in the famous circle yourself.
What Kinds of Music Can You See at the Grand Ole Opry?
The Opry is known for country music. A peek at the concert schedule reveals a roster of country legends and modern artists alike. Plus, the Grand Ole Opry still plays every Sunday night like it has for the last 90+ years. Performances in recent years have included artists like Eagles, Amy Grant and Vince Gill, and Luke Combs.
Get Your Tickets
A visit to Nashville isn't complete without a trip to the Grand Ole Opry. Tickets for tours and shows are on sale now, so snag them while they're still available.
Other Live Music Destinations
There's music playing all day, every day in Nashville. Here are some other great options for catching live performances when you're in the mood for music.
Bluebird Cafe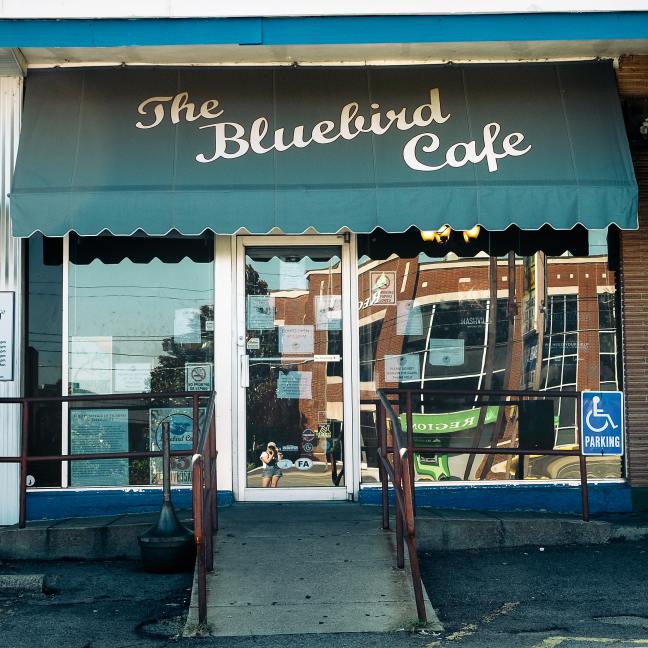 Made famous by the television show Nashville and pop culture icons, like Taylor Swift, The Bluebird Cafe is a hot spot for intimate performances by both familiar and up-and-coming artists.
Ole Red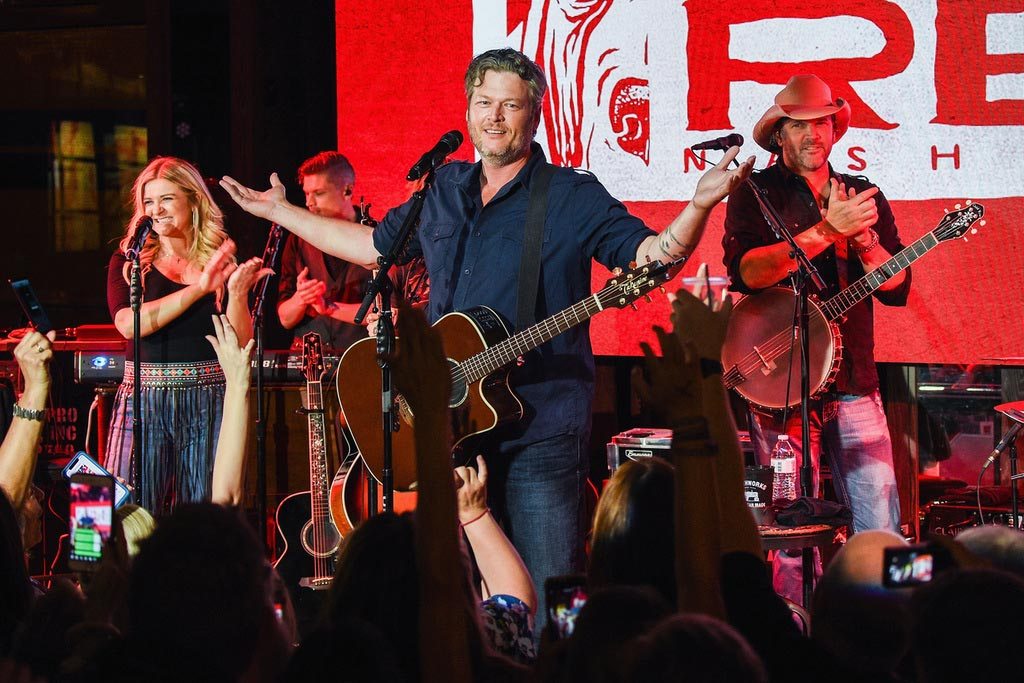 Located on Broadway amongst Nashville's famous honky-tonk row is Ole Red, a towering restaurant and performance venue owned in partnership with country star Blake Shelton. Check out the rooftop, The Lookout, for an over-the-top experience.
Exit/In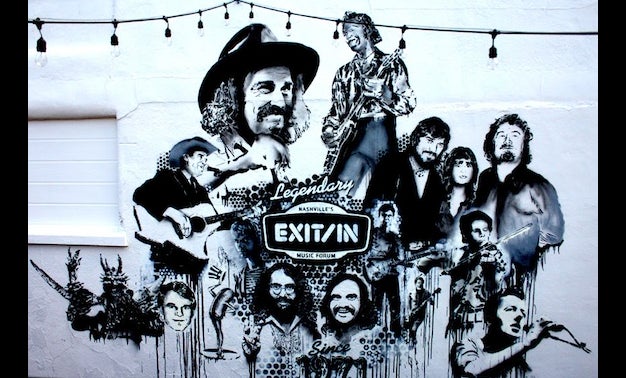 Opened in 1971 and famous for its Wall of Fame, Exit/In has hosted performers of all genres, from Jimmy Buffet to Steve Martin to Sharon Jones.
What's Nashville's Music Scene Like?
Nashville's music scene is diverse. Music City is probably still best known as the home of country music, but today bands of all genres call Nashville home. On the rock scene, bands like the Black Keys, Kings of Leon, Nikki Lane, and The Kills all hail from Nashville. Jack White's studio, Third Man Records, is located downtown. Indie Rockers, like Ruston Kelly and Soccer Mommy, hail from Music City. Even pop megastars, like Justin Timberlake, reside in Nashville.
When it comes to touring musicians, music fans are just as likely to see stars perform in intimate bars as they are filling arenas. One can see Beyonce perform at a sold-out Nissan Stadium one weekend, then stumble upon Lady Gaga at dive bar The 5 Spot in East Nashville another.
The same is true for honky-tonks. Talented up-and-comers and familiar local musicians grace the cozy stages at Legends Corner, Tootsies Orchid Lounge, and Robert's Western World every night, but it's not uncommon for music superstars, like Blake Shelton, Keith Urban, or even Miley Cyrus, to make surprise appearances on stage.
Genres of Music Available in Nashville
Nashville is a music destination with renowned venues that draw fans from all over the world. Sure, you can see great country performances in Nashville, but the city is also known for hosting some of the best Rock, R&B, and Bluegrass concerts in the country.
Country Music
Great country music can be seen almost every night at famous venues like the Grand Ole Opry. On any given week, you could see Chris Lane, Charles Esten, the Oak Ridge Boys, and Maggie Rose grace the Opry stage. Country legends, like Garth Brooks, Alan Jackson, Alabama, and Willie Nelson, frequently sell out even the largest Music City venues.
Rock & Roll Music
Nashville has a thriving rock scene. Big-name bands, like The Black Crowes, and lesser-known bands, like Purity Ring, Bikini Kill, and Temples, can be seen on any given night in Music City. Famous rock bands, like Def Leppard and Chicago, also cycle through the city regularly.
R&B Music
The R&B genre has deep roots in Nashville with legends like Little Richard and Etta James frequenting clubs on Jefferson Street in the 1960s. Today, fans can see famous hip-hop artists, like Run The Jewels, and pop performers, like The Weeknd, playing some of Music City's biggest arenas.
Bluegrass Music
Bluegrass has a long history in Nashville; it started on Ryman Auditorium stage, after all. Today, bluegrass fans can take in live performances all around the city, from the honky-tonks on Broadway to the Station Inn, an intimate venue in the Gulch.
Signup for Alerts
Keep your thumb on the musical pulse of Nashville. Sign up for email alerts and stay in the know of new concerts, shows, and events at Ryman Auditorium.
---
[TL1]Link to the Blog Post "What is Nashville Known For?"
[TL2]Link to the Blog Post "Is Nashville Just Country Music?"
Stay In Touch
Subscribe for updates, events offers and more. To sign up to receive our emails, Fill in the following fields and hit submit. Thanks, and Welcome!