With a dusty baritone as bright as an eternally lit jukebox and tattooed fingers around the
fretboard of a rare guitar, Stephen Sanchez tunes into longing and love with the acuity of a triedand-
tested troubadour—yet he's only 19-years-old. Transcending eras, he writes the kind of
songs that can play just as well from your parent's vintage record player as they could from the
main stages of festivals a la Bonnaroo. If somebody told you he just pulled up from the fifties in
a gorgeous Caddy, you'd have a hard time disputing it. As the story goes, he initially stirred up
early buzz with his very first upload "Lady By The Sea," going viral on social media and
establishing rapport with audiences. Not long after, his original breakout "Until I Found You"
properly introduced a spirited signature style. Anchored by a dreamy croon and breezy guitar
wrapped in silky harmonies, it tallied nearly 640 million global streams between the original,
piano version, and duet with gold-certified pop singer and songwriter Em Beihold. Meanwhile, it
recently was Certified Gold and cracked the Billboard Hot 100 chart as his monthly listenership
on Spotify exploded to the tune of 16 million. He also delivered jaw-dropping renditions of "Until
I Found You" on The Late Show with Stephen Colbert and Late Night with Seth Meyers. Finding
his way into the hearts of countless fans worldwide, he continues to captivate on his 2022
EP, Easy On My Eyes [Mercury Records/Republic Records] and more to come.
Friday,
November
17
8:00PM
8:00 PM
Venue Information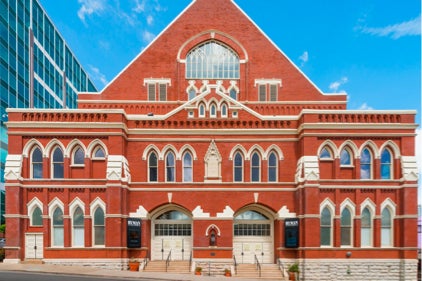 Ryman Auditorium
Ryman Auditorium, located at 116 Rep. John Lewis Way North, in Nashville, Tennessee, is one of the most celebrated venues in modern music. Built in 1892, the historic 2,362-seat live performance venue is the most famous former home of the Grand Ole Opry and is revered by artists and music fans for its world-class acoustics. A bucket list moment for both fans and artists alike, her iconic stage has hosted performers from across genres, such as Elvis Presley, Bruce Springsteen, Charley Pride, Loretta Lynn, Johnny Cash, Harry Styles, Wu-Tang Clan, Lizzo, and thousands more. While offering a diverse lineup and thriving concert schedule with over 200 shows per year, the venue is also open for daytime tours year-round. Along with best-in-class production technologies and livestream capabilities, the Ryman has been named Pollstar's Theater of the Year for 13 years through 2021.
Stay In Touch
Subscribe for updates, events offers and more. To sign up to receive our emails, Fill in the following fields and hit submit. Thanks, and Welcome!